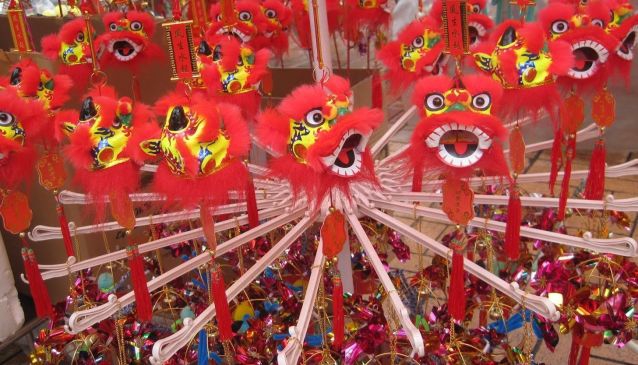 Know about your trip in Hong Kong
Seasonal Celebrations
There will be a series of activities celebrating Chinese New Year starting from February. Apart from
There will be a series of activities celebrating Chinese New Year starting from February. Apart from Chinese New Year theme decorations in all shopping malls, from 4 – 9 Feb, there will be Lunar New Year Fair and Flower Markets happening in different districts. The best known will definitely be the one at Victoria Park in Causeway Bay.
Starting on 7 Feb, which is 3 days ahead of the Chinese New Year, people from Guangdong (Southern part of China) and Hong Kong have a culture of a "massive clean-up". It includes one's home, office, store, car and the person him/herself. Dig to the very bottom or inner of storage and drawer, get rid of the items you've never used in the past 10 years, rub the dirt that has stuck on the window and have a nice haircut. It implies wrapping up this year and getting ready for the new one.
On 9 Feb, it is the Chinese New Year's Eve, which kind management might let their employees to get off duty few hours earlier. At the night, family members and relatives should be gathered for a warm dinner. Traditionally, senior members prefer preparing the meal at home. It shows love and care to their beloved family via dishes cooked with own hands. Favorite dishes include steamed fish (Food Symbolism: May there be fish and profit every year), stewed pork trotter (Joy everywhere), and braised dried oyster with black moss (Wealth & good economy). Afterwards, of course, the whole family will take a walk at the Lunar New Year Fair and take advantage of the last-day clearance.
On the first day of Lunar New Year, people do not do any killing. We either eat the food prepared the night before or simply don't consume any meat. People say "Kung Hei Fat Choi" and wish others good luck. Married people give children and those single red packets. Most of the companies do not open on that day, even restaurants. Therefore, if you are planning to visit some places, do make a call first to check whether they are operating.
One extremely hot event for the worshippers is rushing and struggling to be the first to make the offering to god in Wong Tai Sin Temple. They believe God employs first-come-first-serve policy and would pay all cost to obtain the biggest chance to deliver their messages. Unless you are one of the worshippers or wish to experience the scene in person, otherwise, stay away from the district since the smoke emitted from the stick would definitely be uncomfortable and not too healthy. Note that news will 100% broadcast the scene, you might opt to take a look through the screen instead.
If you are looking for something exciting, go for the Cathay Pacific International Chinese New Year Night Parade in Tsim Sha Tsui. The annual event will feature roving performance, games by international performing artists on floats. The parade lasts for 90minutes, all the way long the main streets in Tsim Sha Tsui such as Canton Road, Nathan Road, Salisbury Road and ends at Sheraton Hong Kong Hotel.
On the 2nd day of Chinese New Year, people continue visiting different friends, colleagues and relatives. Since it is still public holiday, there will be more, but still very few business services. At night, another annual major celebration, Lunar New Year Fireworks Display will be witnessed by tens of thousands of people at two sides of the iconic Victoria Harbour. Enthusiastic photographer of fireworks and night view should arrive in early afternoon to secure a nice spot.
Entering the 3rd day of Chinese New Year, it's known as "chec hao" or Red Dog Day. The traditional belief suggests that we should avoid all possible contacts with people so we don't visit friends and relatives anymore. It is better to stay at home or otherwise, we will easily have arguments and fights with others which is not a good start for the year.
Of course, fewer and fewer people are still following the rule above. Who will stay at home doing nothing on the last day of public holiday! Therefore, we have Chinese New Year Race Day. Kick off the New Year with games, shouting, and animals sounds more fun and reasonable!