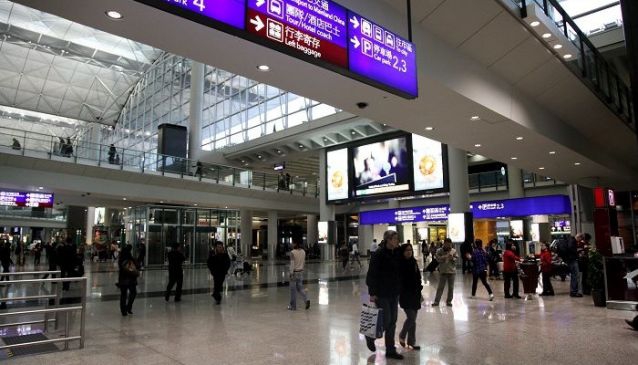 Hong Kong International
Mini Break
Hong Kong International has been named the world's best airport 35 times
Since its opening in July 1998, Hong Kong International Airport (HKIA), also known as Chek Lap Kok Airport in Lantau, has been named as the world's best airport no less than 35 times. But what makes it the best? Well, this Hong Kong transport hub just so happens to be one of the busiest in the world, with 99 airlines providing passenger and or freight services to more than 154 destinations worldwide. Since HKIA is also used as a stopover terminal by many passengers, it has all the amenities to meet the needs of each passenger. In this article, we have laid out the choices you have in the airport under each of the following categories: dining, shopping, entertainment and services.
For the food-lovers, both Terminal 1 and Terminal 2 have their fair share of Asian, Western and Chinese eateries, Hong Kong-style coffee shops, fast food outlets and bakeries.
The Asian restaurants serve either pan-Pacific cuisine (roasted dishes as well as pizza, and pasta), Singaporean cuisine (stir-fried noodles and rice), Japanese cuisine (katsudon, ramen, sushi and sashimi dishes), Cantonese cuisine (pork bun, beef tenderloin noodles, and wonton) or Chiu Chow cuisine (soyed goose, congee, noodles and dim sum).
The Western restaurants and coffee shops are plentiful, with overlapping menus. Almost all of them serve European and American-style premium blended coffee, teas, or hot chocolate. French-style restaurants serve bread, cakes, sandwiches, pastries, caviar and smoked salmon. Italian-style restaurants serve pastas, pizzas, salads, desserts, coffee cocktails and gelato. Smaller coffee shops and cafés have fruit juices, smoothies, freshly baked pretzels, muffins and tortillas.
Chinese restaurants in the airport serve a variety of dishes inspired by Peking, Sichuan, Shanghai and Chiu Chow cuisines. Freshly handmade noodles and steamed dumplings top the list. Other specialties are braised savory dishes, assortment of congee, rice with minced pork, and yang chow rice. Chinese desserts include bubble teas, genuine local desserts such as crispy bun with condensed milk, egg tart and milk tea.
Fast food restaurants in the airport are more convenient in terms of ordering and paying for food purchased from different stalls because they are situated close to one another. Therefore, if your cravings encompass just one cuisine, then head to the fast food court and order from different kiosks. Choose from Japanese noodles and rice dishes to American flame-grilled burgers, hash browns, onion rings, and fries. Or from Chinese fish ball congee, noodle and wanton, to New Orleans-style chicken in a Cajun sauce or French breads, sandwiches, and pastries. The food court is complete with the specialties of each continent. Dessert stalls have ice cream, gelato, pastries and milk teas.
Bakery shops, on the other hand, are famous for "take out" – since it is something you can bring with you onto the plane. Diverse bakery products are sold here, such as toasted bread with multiple toppings served with Hong Kong-style tea, French bread, Panini, croissants, bread wraps, chiffon cakes, cream cakes and more.
Entertainment
For those who need more reasons to stay awake and energetic inside the airport, entertainment hubs such as the 4D Extreme Screen, Aviation Discovery Centre, Asia Hollywood, i-Sports and PlayStation® Gateway can be found in Terminal 2 of the HKIA.
The Aviation Discovery Centre is a multi-media center that displays entertaining and educational videos, which are mostly interactive. Note that the Aviation Discovery Centre is closed as of June 2012 due to renovation.
i-Sports offer challenging simulators for soccer, basketball, golf, boxing, skiing, car racing and shooting. There are also prize-catcher machines and photo booths in the area.
Geared more for the adults, SkyCity Nine Eagles Golf Course is another leisure facility of HKIA. It is near to Terminal 2, and is the first nine-hole golf course created to United States Golf Association standards.
Most of the time, there are open exhibits held in the different halls of Hong Kong International Airport. These exhibits feature works of art and other materials related to the history and culture of Hong Kong.
Shopping
The airport is a good place to start or end your shopping in Hong Kong as it has a downtown pricing guarantee. This means that their product prices are just the same as those outside the airport. Should you notice that a product is sold to you at a higher price in the airport, you are entitled to a refund of the difference.
Terminal 1 has stores carrying the following products and services:
Audio visual equipment/ electrical & home appliances
Convenience store
Designer's fashion-wear, accessories and bags
Duty free liquor & tobacco
Health & beauty, personal care & pharmaceutical
Jewelry, watches & eyewear
Lingerie & evening wear
Photo imaging services
Skymart Avenue (a shopping center with brands selling audio-visual technology, designer fashion wear and accessories for men and women, mobile phones, jewelry and watches and travel needs)
Terminal 2 has stores carrying the following products and services:
Books & magazines, arts & crafts
Casual-wear, business-wear & sports-wear
Children's-wear, toys & games
Convenience stores
Duty free liquor & tobacco
Health & beauty, personal care & pharmaceutical
Jewelry, watches & eyewear
Lingerie & evening wear
Luggage & travel accessories
Money exchange, banking service & ATM
Both terminals have shops offering packaged food such as snacks, local and foreign confectionery, such as dried fruits, chips, nuts, cake, chocolate and bakery food, and high quality Chinese tea,
The SkyPier is also a convenient shopping spot for ferry transfer passengers. Here you can buy duty free liquor and tobacco and use their currency exchange and banking services.
Services
This is a list of services available to all passengers at the Hong Kong International Airport:
Free phone use (for calling local Hong Kong numbers)
Free Wi-Fi
Foreign exchange and ATM centers
Hong Kong Tourism Board counters (where you can get free maps of Hong Kong)
Luggage-storage counter
Medical center
Post-office