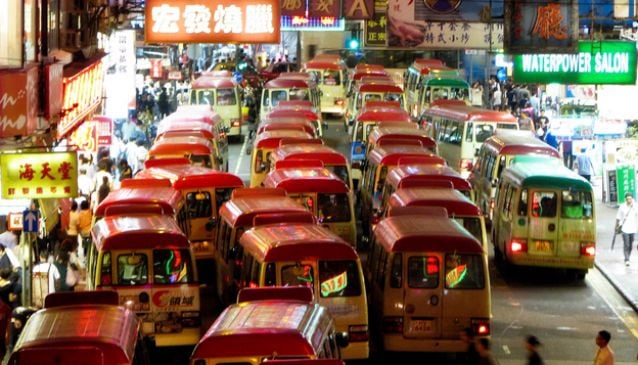 Hong Kong's Night Markets 101
Inspiration
A normal street during the day transforms into a bustling multitude of brightly coloured souvenirs
Hong Kong shopping is always a riotous affair, but stumbling upon one of the bustling night markets is truly an overwhelming blast to the senses: a chaotic, lively jumble of lights, passionate haggling, savoury smells, and a flowing sea of people from all corners of the globe. Whether you're looking for a mainstream outdoor night shopping, or one dedicated to a specialty such as fresh flowers, there's truly a market for everyone.
By far the most famous and largest night market in Hong Kong, Temple Street attracts throngs of people every single night. A perfectly normal street during the day transforms into a bustling tented multitude of brightly coloured souvenirs and, equally as important, street food.
The colourful stalls are literally one after the other (sharing a tent wall), hawking everything relatively inexpensive, from vintage Chinese coins, to iPhone covers, electronics and watches to dinosaur-themed spiky leopard print backpacks. There is also a staggering selection of classic souvenirs and postcards. Haggling is an essential part of the Hong Kong shopping experience, and some stalls may also have a separate, unmarked "local price" if you speak Cantonese, which is slightly cheaper. The culture and art of bargaining is part of this dynamic experience, but as always, there needs to be a balance. Yes, there will be some fairly industrious mark-ups that need to be brought back down to a reasonable number, but a heated shouting match over HK $5 (US .50) can be avoided by keeping in mind that these shopkeepers are also human beings trying to make a decent living.
After an hour or so of shopping, you will most likely feel the need to sit somewhere and recharge. Luckily, towards the middle of the market lies street food central (Dai Pai Dong). Just follow your nose, you won't miss it. Outdoor tables and plastic stools spill onto side streets, bustling with waitresses carrying plates of steaming selections and echoing with the hum of chewing, ordering, laughing, and drinking. Be prepared to be approached by various restaurant hawkers trying to convince you to sit and eat at their restaurant. Feel free to take a look at the menu, and say "no" if you don't see anything you like. Do this before you sit down; leaving once you've sat at a table but before ordering is considered disrespectful and distasteful. All of these Dai Pai Dongs serve similar cuisine, but some will be better than others. A safe rule of thumb is to go for the packed ones that have more locals. Try the super fresh seafood such as the spicy crab or giant prawns, and Tsing Tao beer.
Wander down to the Yau Ma Tei end and cross the street, out of the tented corridor and into another tented world of fortune-tellers. From palm readings, to tarot cards, to numerology and even using birds to pick your future, this cluster of seers and psychics offers it all. Even if you don't usually frequent soothsayers, it's a unique experience that should not be missed. The more popular ones have seats outside their tents with lots of people waiting for their expertise.
MTR Yau Ma Tei Station, Exit C, turn onto Temple Street at Man Ming Lane.
MTR Jordan Station, Exit A. Turn right onto Jordan Road and then take another right onto Temple Street.
Hours: Open daily 4pm – midnight, but definitely go after sunset.
Other markets include:
Temple Street's fairer half boasts a similarly boisterous, thrilling, and stuff-laden atmosphere to shop in. Fake jade, shoes, purses galore, as well as touristy trinkets, fill the street. Unlike Temple Street, Ladies' Market is lined with tons of medium-ranged restaurants, which are often overlooked by tourists. Wander the strip before making a restaurant selection (both sides!) because there are lots to choose from.
MTR Mong Kok Station, Exit E2. Walk along Nelson Street for two blocks.
Bus 1, 1A, 2, 6 or 9 from Tsim Sha Tsui Star Ferry pier and get off at Welson Street station
Hours: Open daily, noon – 11:30pm.
Yuen Po Street Bird Market
Let the songbirds guide you through moon archways, old-school courtyards to the bird shops and their twittering inhabitants. Housed in ornate cages that historically were carried to parks and hung in trees for the duration of the owner's time in nature, this bird-intensive area now also offers associated bird paraphernalia.
MTR Prince Edward Station Exit B1. Walk along Prince Edward Road west towards the Mongkok Stadium for about 15 minutes. Very close to the Flower Market.
Hours: Open daily from 7am to 8pm.
Flower Market
Slip into a serene scented sea of beautiful blossoms as you make your way through the Flower Market. It has both potted and fresh flowers and plants, and is wild just before Chinese New Year as Hong Kong locals stock up on lucky, beautiful flowers and arrangements. The staggering orchid selection is reason enough to go, but if this doesn't convince you, see this as a beautiful, perfumed oasis from the neon and concrete jungle of many other touristy HK areas.
MTR Prince Edward Station, Exit B1. Walk east along Prince Edward Road West until you reach the market.
MTR Mong Kok East Station, Exit C. Walk to Sai Yee Street via the footbridge and follow the signs.
Hours: Open daily from 7am to 7pm.
Goldfish Market
Fishy business is their specialty! For all fish related equipment, food, and the slippery swimmers themselves, this is the spot. Aquariums are seen as bringing good luck to households, which helps explain the existence of this quirky market. All sizes, shapes, and colours of fish can be found here, from traditional to exotic. Darting and flashing, giant and google-eyed, microscopic, or shy, hidden in mini coral reefs, this is an experience NOT to miss.
MTR Prince Edward Station, Exit B2. Walk east along Prince Edward Road West until you reach the market.
MTR Mong Kok East Station, Exit C. Walk to Sai Yee Street via the footbridge and follow the signs.
Hours: Open daily, from 10:30am to 10pm.