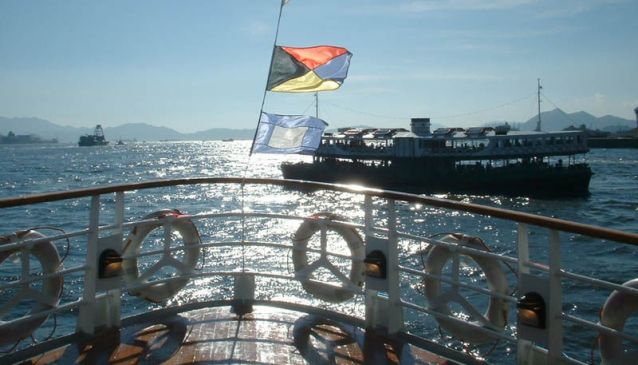 Experience the Star Ferry in Hong Kong
Family Fun
On average, it carries 70,000 passengers a day, which adds up to 24 million passengers a year
The "Shining Star" double-decker ferry is a charming relic from Victoria Harbour circa 1920, when ferries and ships connected passengers from Hong Kong to Kowloon. The Star Ferry has been a witness to many changes that have occured in the 100 years of its existence. Today, its fleet of nine ferries are both a local mode of transportation and a tourist attraction alike. Despite the MTR and cabs readily available for transport, locals still patronize this medium because it is cheap, quick and convenient. And with the view of the Hong Kong Island coastline, with all the shipping vessels at bay, it easy to see why people still opt for this route.
It is one of the top attractions in Hong Kong and in 2009 was recognized by the Society of American Travel Writers to be the world's most exciting ferry ride, and in 1999 was included by National Geographic Traveler as one of their "Fifty Places of a Lifetime". On average, it carries 70,000 passengers a day, which adds up to 24 million passengers a year. All the ferries have fully air-conditioned central compartments complete with cafes, where you can order coffee and biscuits. The ferries also have sightseeing facilities, such as viewing platforms, sun decks, glass-curtain walls, and skyline windows. There are also an electronic map boards of Hong Kong and photo spots where you can learn more about Star Ferry, the company, and its history.
Reclamation has reduced the travel time from to seven or eight minutes making it much more convenient for passengers. On weekdays, ferries operate from about seven in the morning to eight in the evening between Hung Hom and Wanchai, and Hung Hom and Central, and from about seven in the morning to eleven in the evening between Wanchai and Tsim Sha Tsui, and Tsim Sha Tsui and Central. On weekends, these schedules change. Fares for each route vary as well.
Choose to pay more for an upper deck seat as this guarantees you a better view of the harbor and the skyline compared to the lower deck. Also, you might want to avoid the crowd at the lower deck and the occasional stench of marine diesel. Try to get a window seat if you are on the lower deck so you can get an unobstructed view of the coastlines and skyline. As the ride is quite quick, be sure to make the most out of it.
For a more exhilarating and engaging view of the Hong Kong-Kowloon skyline, try to catch the night sail just before eight o'clock in the evening. These ferries stop mid-harbor for passengers to witness and take pictures of the Symphony of Lights show which features lights, lasers and fireworks. Hong Kong's skyline at night is definitely a sight you would not want to miss to complete your Hong Kong voyage.
For more information about trip schedules and fares, you may reach Star Ferry through these: Star Ferry Pier, Kowloon Point, Hong Kong; 852-2118-6201; www.starferry.com.hk
Main picture credit: eguidetravel