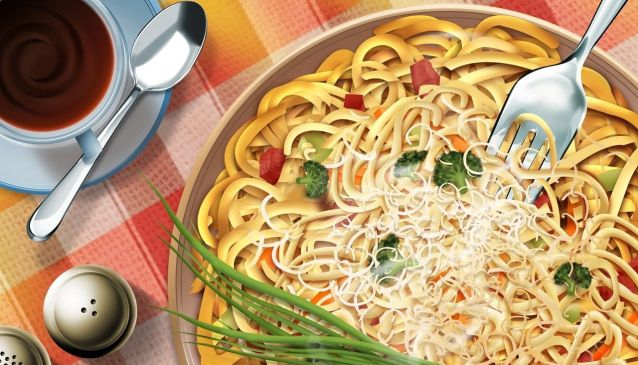 Best Italian Restaurants in Hong Kong
Food & Drink
In Hong Kong are more than a handful of Italian restaurants that serves authentic Italian fare...
While some people still wonder about the difference between a noodle and pasta, many can't help but ignore this curiosity then just savor the goodness of both dough-based foods served in mouthwatering dishes. Fortunately, one can do this in Hong Kong! Alongside with countless noodle shops in the territory are more than a handful of Italian restaurants that serves authentic Italian fare. Whatever you're craving for, whether it is gourmet pizza, pasta, freshly-baked ham, or Italian wines, here's a list of the best Italian places in HK town.
This sleek restaurant definitely deserves the top spot because aside from offering stellar food, it also offers an exceptional view of the harbor. Its floor-to-ceiling windows and outdoor terrace made it possible for it to be voted as the city's best alfresco dining spot. Completing the sophisticated feel is the monochromatic décor of the hardwood floors, lacy white wall and white fabric that expresses style and cleanliness. An impressive set of handmade pastas, pizzas, risottos and Italian pastries is lined up from appetizer to dessert. Try their baked mozzarella in walnut bread with sweet cherry tomatoes, grilled sirloin with red onion and anchovy sauce, oven-broiled black cod with lemon, capers and parsley, and salt-crusted sea bass. These dishes particularly placed the restaurant in HK Magazine's Reader's Choice Awards as having the city's Best Set Lunch.
Address: IFC mall, 8 Finance St., Central
Contact: 2383-8765
We won't be surprised to see you lured into this restaurant by the delicious aroma of freshly-baked bread. Often referred to as Hong Kong's premier high-end Italian joint, Grissini's chefs proudly makes their own classic Italian bread sticks, from which the restaurant is named. Aside from offering a fantastic view of Tsim Sha Tsui, the restaurant prides itself with a wide range of Italian cuisine classics, with Milanese cuisine as their specialty. Their high-rated dishes are Sea Bass Filet, Osso Bucco, Stuffed Zucchini with Buffalo Mozzarella Cream and Chestnut Flour Pasta, and Lobster Ravioli, happily paired with a dozen Italian wines. Located in one of the best hotels in Hong Kong, Grand Hyatt, the interior and service of Grissini are both impeccable. A special brunch is available on Sunday. Don't be afraid to stay loyal to them, as they change their a la carte menu seasonally to ensure variety.
Address: 2/F, Grand Hyatt Hotel, One Harbour Road, Wan Chai
Contact: 2584-7722
With their first branch opened in Rome in 1954, Sabatini celebrates authentic Roman cuisine for more than 50 years now. Their Hong Kong branch at The Royal Garden proves the restaurant's sophisticated and old-school charm as they serve traditional dishes in a countryside-inspired dining environment with a bonus of traditional décor, and live music performances in the evenings. When you browse the menu, specifically look for their Herb-Roasted Lamb Rack, Traditional Spaghetti Carbonara, and their shellfish and veal dishes. Don't forget to save room for their house specialty tiramisu and other homemade cakes. Every detail in this restaurant will whisk you away to Rome.
Address: 3/F, The Royal Garden, 69 Mody Road, Tsim Sha Tsui
Contact: 2733-2000
If on special occasions, you felt the need to splurge on outstanding Northern Italian cuisine, have your feet drag you to Nicholini's. The restaurant presents an excellent view of the Hong Kong skyline and tasteful interior with notable Murano glass collections. The food may be pricey but definitely reasonable for its quality. The antipasti and main dishes such as seasoned lobster, ravioli with spinach, cheese and mushroom sauce are rich, flavorful and inventive. As with many Italian restaurants, an extensive list of red and white wines is available here.
Address: 88 Queensway, Conrad Hong Kong Hotel, Hong Kong
Contact: 2521-3838Top of Form
From a stunning interior to an exquisite array of Italian staple, one can ensure that he will get an awesome Italian experience here in Domani. Sometimes called a glasshouse restaurant because of its design, the menu here is created with the help of Pier Bussetti – chef-owner of Ristorante Pier Bussetti al Castello di Govone in Italy – to produce a blend of traditional and contemporary ideals. This was the theme that created their popular dishes such as caramelized duck infused with cherry tea, fruits and mint lime pineapple, beef carpaccio, lobster spaghetti primi piatti, pan-fried scampi and beef tenderloin. The portions are hefty enough to share so it takes away your guilt of ordering expensive food. The service, while done earnestly, can be a bit ardent sometimes.
Address: 4/F, Pacific Place, 88 Queensway, Admiralty, 2111
Contact: 2111-1197
Cheerful, warm and contemporary are what describes this lively restaurant in the middle of Lan Kwai Fong district. The sight of mustard and blue as the theme colors, combined with fluffy white clouds painted on the ceiling are relaxing. The table settings are simple yet stylish. Warm murals on the walls with scenes of Italy makes you feel you are there. A narrow dining room features a glass wine cellar on one side. Start your culinary journey around Italy by munching on bread that comes with a side of freshly-made pesto. Artichoke appetizers, as well as beef carpaccio with black truffle puree, rocket leaves and fresh parmesan are also popular, besides plenty of soups and salads to choose from. The mains include home-made pastas, and meaty items such as veal, beef, seafood, chicken and lambchops dishes. End your culinary journey with a bite of lovely tiramisu, and a sip of sgroppino – a heady concoction of lemon sorbet, champagne and vodka. Wines by the glass, as well as espressos are an order away too.
Address: G/F 17-22 Lan Kwai Fong, Central, Hong Kong
Contact: 2845-5577
One of the best places to go to for a first date or a birthday dinner with friends, Gaia has a beautiful al fresco garden terrace where you can savour the contemporary local cuisine of Italy. While sitting outside under the stars, you'll smell the enticing aroma of fresh tomatoes, oregano, olive oil and baking bread. Gaia Ristorante remains one of the most popular dining spots in Hong Kong courtesy of its house favorites that include chittara pasta tossed with bottarga and clams, and Roman-style pizzas with classic toppings such as margherita and smoked ham. A piano and a striking red bar enhanced with a creative mix of fabrics, wooden floors, and opulent curtains makes you feel at home while eating. While a normal lunch favorite would be the lavish antipasti buffet featuring sliced Parma ham and aged cheeses, don't fail to try their handmade pasta tossed in a sangiovese-marinated rabbit stew ragout.
Address: The Piazza, Grand Millennium Plaza, 181 Queen's Road, Central, Sheung Wan, Hong Kong
Contact: 2167-8200
The promise of Angelini to its customers is that their dishes are always kept authentic as much as possible. That's why imported Italian ingredients are used to make your dish superbly satisfying. While some Italian restaurants name pastas and beef carpaccio as their specialty, here in Angelini, the spotlight is on their seafood dishes. Noteworthy dishes would be the grilled scallops served with taleggio cheese fondue, sea bass tartate, Sicilian red prawn and caviar, and the grilled beef strip loin served with artichoke, zucchini, carrot, potato and baby asparagus. These succulent dishes are accompanied with an extensive wine list featuring over 100 Italian wines. A taste of Chef Vittori's homemade sweets –like the chocolate almond cake– in Angelini's down-to-earth and informal atmosphere wraps up your exceptional dining experience.
Address: Mezzanine Level, Kowloon Shangri-La Hotel, 64 Mody Road, Tsim Sha Tsui East, Kowloon
Contact: 2733-8750
Grappa's has already evolved into eight Italian concept restaurants around Hong Kong town. That alone proves how successful it is. Whether you're looking for a nice place to have your date, seeking for a casual Italian dining on your break time, or aiming for a gastronomic experience at the end of a weekend shopping, Grappa's would definitely please you. Grappa's at Pacific Place offers a cozy, less noisy environment compared to other concept restos. It boasts of its secret sauces on pastas, Italian sausages and more importantly, its exclusively-produced desserts. The menu spreads four pages and presents an extensive list of everything Italian! The seafood dishes here are often chosen as appetizers or mains. The specialty pasta is the penne with grappa, cream, lobster and fresh tomatoes. They serve pizza as well, but it's not the must-order meal. The service is smart and efficient.
Address: Shop 132, The Mall, Pacific Place, 88 Queensway, Admiralty, Hong Kong
Contact: 2868-0086
Considered underrated among Italian restaurants in Hong Kong, Osteria is actually one of the best. The antipasti selection is impressive, with leading orders such as the fresh beef carpaccio with arugula and Ligurian-style octopus salad served with potatoes, green beans and pesto. Pasta sauces are ensured to be unique as it is prepared according to the chef's secret recipe. Loyal customers particularly goes back forz their papardelle with homemade Bolognese and their risottos. Osteria's home-baked pizzas are also worth your curiosity. Osteria is located in Holiday Inn just behind Chungking Mansions. Though the location is a bit discrete, the restaurant is jam-packed with noisy regulars during the weekends.
Address: Holiday Inn Golden Mile Hong Kong, 50 Nathan Road, Tsim Sha Tsui
Contact: 2792-5296